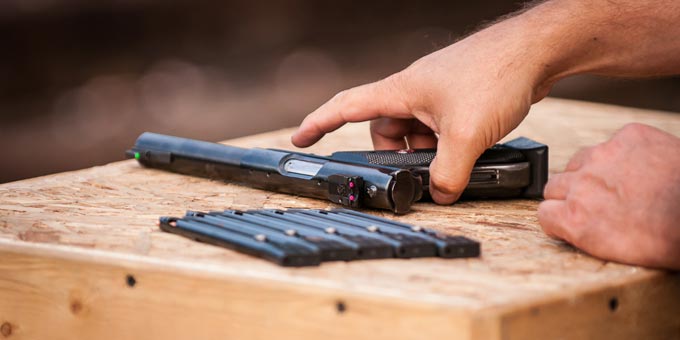 Friday Night Steel matches are held at the Fairfield Sportsmen's Association Pistol Section located near Cincinnati, Ohio. (Get Google Map Directions).
Setup at the range will begin at 3:30 PM, and shooters may sign up any time between 4:00 pm and 8:00 pm. The match will begin every Friday Night (weather permitting) as soon as the range is ready and will consist of 3 stages that are not difficult but are also challenging. The round count will be between 66 to 90 rounds, but bring plenty of extra ammo for misses. The stages for each match will be posted on the FNS website under "Stages" at the beginning of the week.
There are five FNS Divisions to compete in:
Production Auto: Semi-auto centerfire guns with no scopes, red dot sights or compensators and minimal or no external modifications such as: flared magazine wells, extended slide stops/safeties/magazine releases. There are no limits on magazine capacity.
Custom Auto: Non-scoped and non-compensated semi-auto centerfire guns with external modifications not permitted under Production Auto criteria. This includes all double-stack Para-Ordinance and STI 2011 1911s and other customized guns.
Unlimited Auto: Scoped and/or compensated semi-auto centerfire guns. There are no limits on modifications. These are also referred to as "race guns".
Revolver: Any centerfire revolver.
Rimfire: Any rimfire revolver or semi-auto handgun.
Note: We restrict calibers to "standard" defensive rounds such as 9mm. 40 S&W, 45 ACP & 38 Special. Other rounds of standard power may be used. However, magnum or high speed rounds such as .357 mag, 44 mag 454 Casull, 500 mag, 5.7 x 28mm and 7.62 x 25mm may NOT be used on the FNS targets. These rounds damage the steel targets resulting in dangerous splashback. If there is a question on caliber usage see the Match Director or Senior Range Officer before shooting.
Also, no single action (cowboy type) revolvers are permitted because they can't be loaded and fired quickly enough for this competition. The exception to this is if there is a special "side match" for type of revolver.
Cost:
When registering on the computer, taking a scorecard to enter your shooter number and division. $5 must be placed in the money box for each entry. This is an "honor" system. If there are shortages the honor system will have to be reviewed. Scorecards must be marked with the shooter's name and the division in which he/she is shooting. Any cards without this information will not be scored. Scorecards are to be turned in to the collection point as soon as possible after shooting is completed in order to facilitate scoring.
Prizes:
The Lewis Class System will be used to determine prize distribution in each division. Payouts will be based on the number of competitors in a particular division. A shooter may enter multiple times if desired. The only exception will be if a shooter has come in first (1st) in a division during a season they are allowed to enter in that division only once each week for the rest for the season.
Scoring:
Scoring is time-based. The competitor must follow the course of fire posted at each stage. A three second penalty will be added to the competitor's time for each miss that is not made up, and 3 seconds will be added for any procedural error(s). Decisions made by the timer/range officer will be final. The Timer/RO will always explain the course and procedures to the shooter if there are questions.
Check out the Rules page for the particulars.
Holsters are not required but extra magazines for semi automatics and speedloaders or moon clips for revolvers will be needed in order to compete. Six magazines or speedloaders should be considered a minimum. New shooters will be allowed to come to the line with less than six, but may be required to leave the line while reloading them to prevent slowdowns. Magazine and/or speedloaders can be belt mounted with holders or retrieved from the table for reloading when shooting.
Scores will be posted on this website as soon as possible, usually within 24 hours. The website also will post upcoming Stages, We will try to post the stages for the Friday match earlier in the week so shooters have a chance to look them over.
You need to read and understand the Rules, if you have any questions regarding FNS rules or procedures please ask the Match Director or a Senior Range Officer before attempting anything the may be in doubt. To receive emails with Friday Night Steel news, announcements, match results, etc. register for our mailing list.
Good Shooting!!!